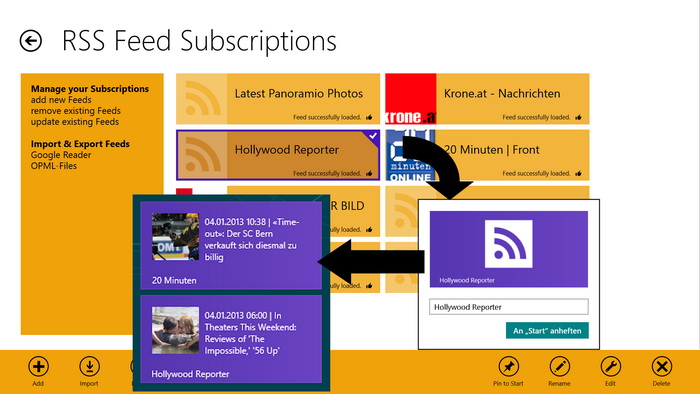 | | |
| --- | --- |
| Dark RSS Reader - News | 1/6/2013 8:00 PM |



Version 1.6



The current version of Dark RSS Reader contains two important new features that have been requested frequently by the users. In addition, some minor improvements were made.

The new version 1.6 includes the following adjustments:

- HTML-reading view: If desired, in the settings the HTML rendering can be enabled. The next time you load the news they will be loaded in the extended format (larger data volume!) and are presented in the reading view in a new browser region. The original layout and active elements such as animated images and some video plugins can be viewed from within the application. The browser and the embedded HTML processing may have an influence on the performance.

- Live Tile: Individual feeds can now be pinned to the Start menu. They start Dark RSS reader right in the detail view of the individual feeds. You can add as many feeds as you want. In addition, the tiles show the five most recent messages. The tiles update themselves on the Windows background system alternately every 15 minutes. The update process is controlled by the operating system and can (e.g. low battery, high system load) be prohibited. The user can also revoke the authorization at any time, or remove the application from the background activity list. It will support the wide and square tile representation and considers news images if available.

- Fast feed switching: In the reading view you can now change with the new navigation bar directly to another feed. Returning to the main overview is no longer necessary.

- Google Reader Import: The import was further improved. If you should still encounter problems, please contact us.
.
- Crash on startup: A problem has been fixed, when the application was in the background already open in Reading View and started again from the start menu.


Feedback and suggestions are still welcome.